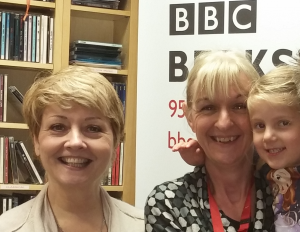 On Monday 27th October, the first day of National Fertility Awareness Week, I was a guest on the Anne Diamond Show on BBC Radio to talk about my infertility story and the launch of My Fertility Specialist magazine. I only found out the Friday before that I would be on so not much time to prepare….. or worry! But I needn't have worried, because she and her Producer were absolutely lovely.
Although the show was 45 minutes long, there were many breaks for music, weekend sport updates and news and weather. It was all quite casual and if there hadn't been a microphone in front of me and I hadn't been wearing headphones, I could have been chatting to Anne over a cup of tea, she was that relaxed.
She was empathetic to anyone going through infertility, and you could tell she understood what a dreadful thing it is to struggle to conceive. She was very interested in My Fertility Specialist magazine and thinks it's a great idea and wished me every success.
She asked me to let her know how the KickStarter campaign went and how the launch goes in January. My daughter, who came along with my husband, was completely un-fazed at meeting a celebrity at the ripe old age of 3 and ¾'s!