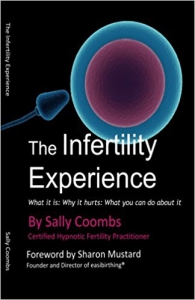 There are a number of books now available thankfully to support you if you find yourself on an infertility journey, and they all offer different support, because as the author of 'The Infertility Experience' realises, everyone's journey is different.
If I was on my own journey I would've found this book extremely helpful, because it feels like Sally is actually with you, in person, advising and supporting you. With all the will in the world and if you think you are a strong person, no one is prepared for the emotional ups and downs, the tests and results, the euphoria and disappointment that sometimes occurs within days of each other. Infertility challenges the best of us and it is time consuming to research what may help you and what information is trustworthy. Luckily Sally, who is a Certified Hypnotic Fertility Practitioner, has done all the research for you in this book.
What I really liked about 'The Infertility Experience' is that there is a chapter for each area of infertility, and there are many! You can choose to read which chapters are relevant to your journey, so if male infertility isn't appropriate, you ignore that chapter and instead, read the chapters that will help you. Each chapter is written in the same style and is very easy to read because there is no jargon and medical terms are simply explained.
Sally's experience and knowledge on the connection between the mind and body shines throughout the book – a list of what might help you to de-stress, a self-help tool on positive affirmations, visualisation exercises to name a few. The Fertility Wheel is an extremely helpful visual tool to identify which factors in your life could be impacting your fertility – this will help you to come up with an action plan that concentrates on the areas where improvement is required. The book is written to guide and help you with your action plan.
This book isn't called 'The Infertility Experience' for nothing – infertility is a tough, lonely, rollercoaster experience and everything you are experiencing, others have gone through before. Thankfully there are people like Sally who want to, and can, help and it would be well worth you buying this book sooner rather than later.
'The Infertility Experience' is available to purchase here: http://ow.ly/Qdwi3080YXR
To contact or connect with Sally at Inner Minds Therapies, she can be contacted:
Mobile – 07890 964288
Email: sally@innermindtherapies.co.uk
Web:   www.innermindtherapies.co.uk
Twitter: www.twitter.com/@CoombsSally
Facebook: www.facebook.com/innermindtherapies
Facebook Book Page: www.facebook.com/theinfertilityexperience
Amazon Author's Page www.amazon.com/author/sallycoombs